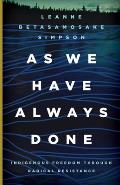 Subtitle: Indigenous Freedom through Radical Resurgence
Leanne Betasamosake Simpson is a renowned Michi Saagiig Nishnaabeg scholar, writer and artist who has taught and lectured across Canada. With story and analysis, she carefully lays out how Nishnaabeg ways of living, learning, and experiencing are intrinsically suited to reestablish their communities and place-relationship that have been intentionally disrupted and stolen by colonialist settlers.
A single quote out of context doesn't do justice to the way she steps out of whiteness to center the Nishnaabeg way of thinking and doing, but here is a taste.
Governance was made every day. Leadership was embodied and acted out every day. Grounded normativity isn't a thing; it is generated structure born and maintained from deep engagement with Indigenous processes that are inherently physical, emotional, intellectual, and spiritual. Processes were created and practiced. Daily life involved making politics, education, health care, food systems, and economy on micro- and macro-scales. […] The structural and material basis of Nishnaabeg life was and is process and relationship—again, resurgence is our original instruction.
The book addresses kwe – the embodied experience of being an Indigenous woman – and the ways capitalism, colonialism, and white supremacy have suppressed and damaged that experience. It also includes 2SQ – people who are Two Spirit and Queer.
I feel changed by reading this book. It affirms that there are right ways, sustainable ways of living, and Indigenous people still know and practice those ways. It supports my own search for connection to place and right ways to live. It reminds and teaches me that Indigenous people are brilliant modern thinkers and doers, interrupting the stereotypes of "primitive," "lost," and "in the past."
Highly recommended!
Land as pedagogy: Nishnaabeg intelligence and rebellious transformation (pdf), an article by Leanne Betasamosake Simpson published in Decolonization: Indigeneity, Education & Society.
Leanne Betasamosake Simpson website