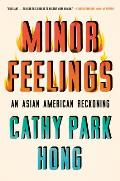 Subtitle: An Asian American Reckoning
Recommended to me by: Jesse-the-k
Cathy Park Hong describes minor feelings as "the racialized range of emotions that are negative, dysphoric, and therefore untelegenic, built from the sediments of everyday racial experience and the irritant of having one's perception of reality constantly questioned or dismissed."
In this frank memoir, she describes growing up in LA's Koreatown in a Korean immigrant family, complex friendships in college, and finding her voice as an artist in conversation with other artists, interwoven with Asian American experiences of racism.
Patiently educating a clueless white person about race is draining. It takes all your powers of persuasion. Because it's more than a chat about race. It's ontological. It's like explaining to a person why you exist, or why you feel pain, or why your reality is distinct from their reality. Except it's even trickier than that. Because the person has all of Western history, politics, literature, and mass culture on their side, proving that you don't exist.
Cathy Park Hong pulls off that tricky feat, asserting her own reality and showing us her life while also explaining what it's like to be Korean in America for clueless white folks. Highly recommended!