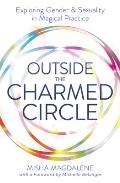 Subtitle: Exploring Gender & Sexuality in Magical Practice
Recommended to me by: Sam L-G
Misha Magdalene (they/them pronouns) asserts that magic is queer. In writing by turns academic and conversational, they explore viewing magic through the lenses of gender and sexuality.
They describe their experience with growing up queer, as well as their gradual introduction to magical practice, including the whisper networks that say, "Avoid this established teacher, he's creepy." Of course Misha went and found out for themselves, fortunately without being harmed.
They talk about consent, and how important it is in matters both sexual and magical, and definitely in the mix of both. As a practitioner of the Feri tradition, they directly address some of the deep issues with consent in that tradition.
They list some gender-queer and non-heterosexual gods and goddesses in various flavors of paganism.
In the end, magic is queer because it is non-mainstream, not the default religion, outside a lot of people's lived experiences.
The book includes practical writing and magical exercises to explore the covered topics.
Highly recommended as an interesting, eclectic, and principled exploration of gender, sexuality, and magical practice.
Misha Magdalene's blog at Patheos, Outside the Charmed Circle explores some of the same ideas. There are posts that forthrightly challenge the pagan community to address its problems with racism, homophobia, and lack of consent, sexual predation and abuse.