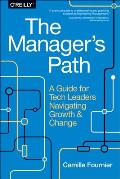 Subtitle: A Guide for Tech Leaders Navigating Growth & Change
I expected this book to be boring, but it's engagingly written and connects with my experience of working in tech. Camille Fournier writes from her own experience as a CTO (Chief Technical Officer) at several companies and includes quotes from other tech leaders, both men and women.
She starts with mentoring, which almost every technical person is expected to do eventually, and works up through tech lead, manager, director, up to CTO and VP of Engineering. She advises anyone who wants to be a manager of software engineers to spend enough time learning to code (5-7 years) to have those skills solidly available going forward.
I'm a software engineer who has mentored people and led projects, but will not be climbing the corporate ladder any higher. It was interesting to hear about the concerns that arise at higher levels. The need to figure out who is unhappy, why teams are not working well together, who is managing badly, and who might leave suddenly. The need to make good decisions about future directions on insufficient data. The need to develop intuition and keep taking in information to guide those decisions.
As she talks about mentoring interns and managing individual contributors, she includes all technical roles. Her primary advice is that relationships and communication are crucial even though programming might appear to be a solitary technical occupation. Not only do successful projects require communication with other engineers and the manager, they require communication with the stakeholders who say what to build, and the sales and marketing people who help it go out into the world.
She talks a lot about the importance of one-on-one meetings between managers and the people they manage to build trust and address problems early. She recommends skip-level meetings, where a director who manages managers also meets with individual contributors.
In addition, positive relationships are crucial to success in the working world. Not only do they make work more pleasant, they help people collaborate and share information. People who like working together help each other get jobs in the future.
I can clearly see this is true over the 30 years of my career. I built positive working relationships naturally, and I'm still not sure the advice makes sense until one experiences it. It's not about fake, forced networking with people one doesn't like – it's about staying connected and friendly with people one does like to support one another going forward. In school, success artificially depends only on individual actions (although I think kids do more group work nowadays), but most accomplishments out in the world depend on interconnected people building things together.
The pronouns in this book bothered me. Rather than using she/he or they, Camille Fournier switched between using he for some examples and she for others. An intern was he while being described in general, and then she when performance problems came up. After that the pronouns were more even-handed, but I was very aware of them all the way through, braced for women to be portrayed negatively. As far as I remember, they/them pronouns were not used for anyone.
Recommended to anyone who works in a technical field, and especially anyone who wants to become a manager.
Links from the book:
The Tyranny of Structurelessness by Jo Freeman aka Joreen, a classic essay on why managers are necessary.
On Being A Senior Engineer which includes the suggestion to use senior influence to sponsor (rather than mentor) underrepresented people in engineering. Recommend them for positions. Highlight their accomplishments. Praise them publicly. Also refers to What Does Sponsorship Look Like by Lara Hogan.