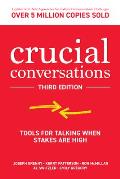 Subtitle: Tools For Talking When Stakes Are High
Recommended to me by: my boss
I read this book back in 2013 and decided to reread it when my boss mentioned it.
In addition to my summary in 2013, I noticed more about questioning inner stories. When we assign roles like Villain, Victim, and Helpless One, we close off avenues to potential solutions. When we can see everyone in a situation as a complex human with a mix of skills, past experiences, and motivations, we can see openings for solutions more clearly.
I wrote about a similar approach in 2018 in Offer a Collaborative Story.
Crucial Conversations has an oversimplified approach to emotions. The claim is that emotions are caused by our stories, and we have to change stories to change or quiet our emotions. While it is true that a negative story can escalate negative emotions, overall our emotions are signals about our inner truth. It is a mark of privilege to expect everyone to be calm in a difficult situation. Telling people they are causing a problem by having the "wrong story" can quickly shade into gaslighting.
The book has an extended example where a woman is silenced and talked over by a man in a business context. The message of the example is that we have to give everyone the benefit of the doubt and ask them for what we need without regard to privilege, sexism, and institutional power. We all exist in a sexist, racist, capitalist system, and people who act out those biases are not inherently evil. At the same time, putting responsibility on a less privileged individual to manage the situation without mentioning the systemic issues in play is oversimplified and imbalanced. The authors could have mentioned that the situation is stacked against the less privileged person, and that if their techniques don't work, it doesn't mean she did them wrong or didn't try hard enough.
The book contains a lot of ableist and judgmental language. "Dumb" and other slurs are used liberally. Some behaviors are ascribed to "the worst at dialogue" (italics theirs) without noticing that they are failing at their own command to be generous and ascribe positive motives.
This is a recently published third edition. While it contains some useful ideas, I cannot recommend it wholeheartedly because of the shortcomings that have not been addressed.