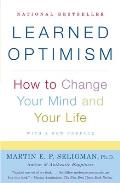 Recommended to me by: Molly Gordon's Biznik article When the Going Gets Tough, Think Smarter
In a book that combines psychological research and self-help suggestions, Seligman correlates optimism with health and happiness, and pessimism with learned helplessness and depression.
Explanatory styles for positive and negative events are analyzed for being permanent, pervasive, and personal.
Optimists tend to think negative events are temporary, restricted in scope, and externally caused, while positive events are permanent, global in scope, and internally caused. Pessimists tend to think the reverse. Seligman does note that pessimists' explanations are more accurate, on average.
He recommends ABCDE cognitive therapy to correct explanatory styles. For every Adverse event, notice pessimistic Beliefs, observe Consequences, Distract from or Dispute the beliefs, and observe the Energization that occurs. Techniques for disputing beliefs include evidence, alternatives, implications, and usefulness.
While the ideas are useful, and the scientific research he describes was ground-breaking, the glib, salesman style of the book left me wondering what caveats, limitations, and assumptions were glossed over.
Noticing and questioning beliefs is a powerful technique which has been recommended by many people, framed in many ways. I prefer less confrontational ways of interacting with my own thoughts. The most useful part of this book for me is the new language for analyzing explanatory styles.
While Seligman emphasizes optimism vs. pessimism, I think the big news is his early research on learned helplessness. Once overcome, learned helplessness does not return. For survivors of any kind of abuse of power, this can be the key to recovery.