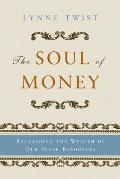 Recommended to me by: Spirituality bookgroup, and several others.
Lynne Twist recounts her fundraising for The Hunger Project non-profit, including anecdotes about her encounters with both desperately poor and despairingly wealthy people.
She also shares her own journey from oblivious, superficial spending to heart-centered use of funds.
She explores the effects of our toxic myths of scarcity (there's not enough, more is better, that's just the way it is), and replaces them with sufficiency.
Sufficiency is defined as a declaration that there is enough, and we are enough. "We engage in life from a sense of our own wholeness rather than a desperate longing to be complete."
In sufficiency, money flows through our lives, rather than being accumulated for its own sake. We use money with integrity to express value, rather than allowing it to determine value. Turning our attention to inner resources allows us to meet challenges of external scarcity. "In the nourishment of our attention, our [internal] assets expand and grow."
I had never thought of fundraising as offering someone the opportunity to align their actions with their values. This new model changes the power dynamic from giver/receiver to an equal exchange.
It was encouraging to notice that I already follow one of the book's major recommendations: aligning my spending with my values. I still have the goal of becoming more comfortable with the flow of money in my life.