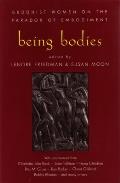 Recommended to me by: Catherine Holmes Clark, who also has a detailed site about her journey with environmental illness.
The sweet relief of reading about Buddhism from the perspective of women connected with their bodies took me by surprise. Until I read this book, I didn't realize how much I'd been reading around a feeling of exclusion in The Wise Heart by Jack Kornfield and other books about Buddhism centered on male experience.
Thirty-three essays by different Buddhist women are divided into five sections:
Body as Suffering – bringing awareness to the experience of chronic illness.
Body as Nature – the feeling of failure because giving birth brought pain, even with awareness.
Body as Gender – helping a daughter remain aware as she navigates adolescent self-judgment of her body.
Body as Vehicle – dealing with difficulties through "no more struggle," "using poison as medicine," and "seeing whatever arises as enlightened wisdom."
Body as Self – navigating addiction to alcohol, compulsive eating, and the loneliness of being embodied.
Images from the essays have woven themselves into my awareness.
At my cutting board chopping carrots or parsnips, I think of Darlene Cohen's essay, "The Only Way I Know of to Alleviate Suffering." She writes about helping people with arthritis discover that they can cut carrots by bringing their awareness to the details of their bodies' experience with the board, the knife, and the carrots.
I recommend this book to anyone who wants to revel in the Buddhist perspective of women connected to their bodies.