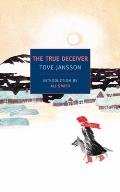 Recommended to me by: Ursula Le Guin
In contrast to Tove Jansson's kind, easygoing, whimsical Moomintrolls, the humans in The True Deceiver are hard-edged, uneasy, complicated.
Yellow-eyed young Katri Kling and her "simple" younger brother Mats are orphans in a blue-eyed Finnish village. Katri fights for survival through observation and analysis, noting her fellow villagers' hostility towards her and each other. She is also meticulously honest, seeking detached, pure clarity.
Her neighbors both resent her and come to her for advice, receiving fair solutions that nevertheless encourage negative views of each other.
Even with her awkward contempt of social politeness, Katri manages to befriend local heiress and author Anna Aemelin. She successfully arranges to move herself and her brother into Anna's house, and becomes Anna's business manager as well.
Anna is vaguely friendly to everyone. Katri challenges her world by showing her how she is taken advantage of at every turn.
In the end, both Katri's and Anna's approaches to life are thrown into question. Elderly Madame Nygard, whose warm kitchen still holds an old-fashioned wood-burning stove, seems to offer a kinder but still observant middle ground.
This is not a feel-good book. It accurately portrays the cruelty that can result from desperation and isolation in a claustrophic environment. The ending holds ambiguous hints of change, but doesn't resolve the tension.
I want the focus to be wider, to show reasons in the past or healing in the future. In this single winter moving into spring, Katri seems trapped without access to her own heart.