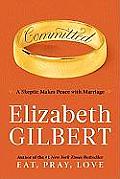 Subtitled "A Skeptic Makes Peace with Marriage," this is a sequel to Eat, Pray, Love.
I was expecting an exploration of emotional commitment as detailed as the exploration of transformation, self-discovery, and healing in Eat, Pray, Love. Instead, Committed documents the political institution of marriage.
In Linchpin, Seth Godin mentions that Elizabeth Gilbert printed out the first completed draft of this book, read it, threw it away, and started over. He used it as an example of lacking the commitment to shipping a completed work.
In her introduction to Committed, Gilbert mentions that she had trouble finding her writing voice after Eat, Pray, Love became a bestseller, and that she threw away the first draft because the voice was too distant, not recognizable as her own voice. I'm glad she had the commitment to her own voice and the courage to start over in that case, especially since I still see some distance in the book she did ship.
The book contains engaging personal stories about the author, her extended family, and some of the people she encounters in her travels. It also contains generalizations about "tribal" Hebrews vs. "intellectual" Greeks, and a shallow historical overview of the institution of marriage.
I'm glad to know what happened next in the relationship between Elizabeth and Felipe, and wish them the best in their new home.