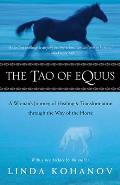 Subtitle: A Woman's Journey of Healing and Transformation through the Way of the Horse
Recommended to me by: A client.
Linda Kohanov and her herd of sensitive horses offer equine facilitated psychotherapy. Together they help both horses and humans recover from trauma, regain their balance, and treat each other with more respect.
This many-layered book contains autobiography, horse stories, client case studies, myths, theories about emotions and the brain, and diatribes about traditional horse training.
Kohanov convincingly claims that horses are intelligent partners, extraordinarily capable of reading and reflecting the emotions around them. She contrasts postconquest thought, divorced from the body, with preconquest thought, congruent with the body. Horses respond to lack of congruence as a threat, thus giving feedback to help people reconnect with their body and emotions.
One case study highlighted how we tend to respond to agitation by mirroring it. Instead, we can consciously calm ourselves, inviting the other person (or horse) to become calm as well. I'll keep that technique in mind.
Before reading this book, I had heard of equine facilitated therapy without much interest. As I was reading it, I wished Kohanov's ranch were closer than Arizona so I could go try it out. Her combination of sensitivity and groundedness sounds similar to the healing work I do.