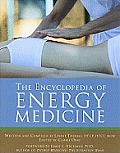 Recommended to me by: Rosalind Bell
Linnie Thomas, from Tualatin, OR, has researched and described 65 different energy medicine modalities. She was inspired by her own difficulty in finding and choosing an energy medicine class. She is now a Healing Touch practitioner.  About the author.
Like most encyclopedias, this book is not meant to be read from cover to cover, but rather to serve as a reference. I got about halfway through before the modalities began to blur together.
Each section includes a few pages describing the modality, a session, the training process, and where it is taught. I found the articles most helpful if I had experienced a session in that modality before. If I was completely unfamiliar with a modality, the brief description wasn't enough to give me a feel for it. If I have training in a modality, I noticed the information that was left out.
I recommend this book for someone who is curious about modalities they've received before, or who is considering training in energy medicine and wants to explore their options.