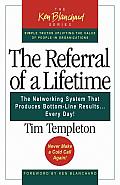 Subtitle: The Networking System That Produces Bottom-Line Results… Every Day!
Recommended to me by: Karen Wehrman
A quick and amusing read, this book teaches a method of getting referrals and building business, illustrated with fictional vignettes. The vignettes are slightly dated in their attitudes toward women, but at least women are shown as successful business owners.
The system is based on treating customers and contacts with integrity, staying in touch consistently, and asking for referrals. While it is recommended to outsource sending "items of value" every month (the author's business provides that service), it is also recommended to make the system fit each particular business.
I recently realized that my business is personal, not personalized. I send hand-written thank you notes, not cards printed by a service. I spend a couple of days each month writing a substantive article to send to my mailing list.
While I don't think this book outlines the only way to succeed at business, and I don't think it's a perfect fit for my business, I'm going to keep thinking about the suggestions and how they might apply. It wouldn't hurt to emphasize my commitment to service and ask for referrals more often!