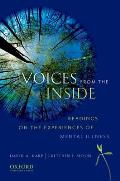 Subtitle: Readings on the experiences of mental illness
I found this book because I was curious about Caroline Knapp's writing after reading Gail Caldwell's memoir about their friendship, and I read it because I wanted to learn about mental illness without its stereotype of causing violence. In fact, [v]iolence is not a symptom of psychotic illnesses such as bipolar disorder and schizophrenia.
Unfortunately, this book propagates rather than counters the stereotype. Many of the schizophrenic people's stories include violent fantasies and actions. The essays also include violent treatment of people with mental illness in mental hospitals and prisons.
The book is intended for classroom use. Each essay is preceded by an introduction telling the reader how to interpret the essay, and followed by discussion questions which are clearly slanted toward preferred answers.
Caroline Knapp's essay, "Denial and Addiction," talks about the effortless contortions that make alcoholics' drinking look acceptable to themselves. "Denial can make your drinking feel as elusive and changeable as Proteus, capable of altering form in the blink of an eye." Calmly honest, she describes her own and others' self-destructive behavior while addicted to alcohol.
Other essays describe the experiences of schizophrenic psychosis, depression, mania, taking Prozac for OCD, recovering from anorexia, and the aftermath of a spouse's suicide.
While I applaud the authors' venture into personal stories rather than aggregate statistics, I think academia has a long way to go in its attitudes toward people who have mental illnesses.