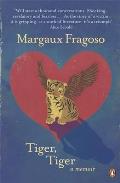 Recommended to me by: rushthatspeaks
This is Margaux Fragoso's matter-of-fact memoir of growing up in Union City, New Jersey with an angry father who is a jeweler, a mentally ill mother who is often hospitalized, and a very complicated relationship with a pedophile, Peter.
I skipped whole chapters in the middle of this book, unable to read the detailed, oily dishonesty that twists a child's desire to be pleasing and pleasant against herself, eventually manipulating her into holding still for rape.
Over the fourteen years that Margaux Fragoso was enmeshed with Peter, she continued to express her spirit and her boundaries as well. The story of her entrapment is also the story of how she survived and eventually flourished.
In the afterword, she notes, "that a sexual predator looks for children from troubled homes like mine, but that he can also trick average families into thinking he's ordinary of even an upstanding member of the community." If you have been the victim of such a predator's deceit, this book is immensely validating.
Highly recommended for detailed, clear depictions of complex relationships, with a huge trigger warning for manipulation and sexual abuse.