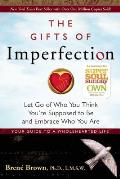 Subtitle: Let Go of Who You Think You're Supposed to Be and Embrace Who You Are
Addtional subtitle: Your guide to a wholehearted life
Recommended to me by: Brene Brown's Ted talk on vulnerability
Brene Brown studies shame resilience and wholehearted living by collecting people's stories and searching for patterns of what works and what doesn't. It turns out that perfectionism doesn't work. Neither does changing ourselves to fit in. Nor seeking certainty.
What does work? Worthiness, rest, play, trust, faith, intuition, hope, authenticity, love, belonging, joy, gratitude, creativity. Embracing tenderness and vulnerability.
The four elements of shame resilience: Name it. Talk about it. Own your story. Tell your story. But only to someone who has earned the right to hear it and won't shame you further.
The gifts of imperfection: courage, compassion, and connection. Courage – originally "speaking one's mind by telling all of one's heart." Compassionate boundaries and accountability. "Compassionate people are boundaried people." "Love and belonging are always uncertain."
"Revolution might sound a little dramatic, but in this world, choosing authenticity and worthiness is an absolute act of resistance. Choosing to live and love with our whole hearts is an act of defiance. You're going to confuse, piss off, and terrify a lot of people – including yourself."
This book went by too fast. I wanted more of the validation and relief I felt as I read.