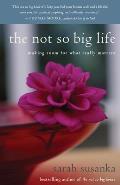 Subtitle: Making Room For What Really Matters
Sarah Susanka is a renowned architect, author of the "Not So Big House" series. This book is beautifully architected with parallels between life remodeling and house remodeling. For the target audience of people with plenty of money and a shortage of time, the book offers substantial, detailed advice on how to make satisfying life choices.
The topics include, among others, noticing inspiration, removing clutter, meditation, dream analysis, and maintenance of your newly remodeled life.
Susanka uses a Jungian approach to dreams where every element of the dream represents the dreamer in some way. She also espouses the Jungian belief that the external world is a perfect mirror of the internal world. I am wary of Jungian psychology since a session with a Jungian therapist whose only tool was to ask me how the abuse I received had benefited me.
I read this book because I have already chosen to lead a "not so big life" and I was looking for validation of my choices. Since I'm not in the target market for the book, I was left with the feeling that it is more valid to be wealthy, overwhelmed, and in need of life-downsizing than it is to have already chosen a less lucrative, more meditative path.
One thing I did get from the book is the idea that whatever I'm doing now is my life. I don't have to keep looking around to check if I'm doing the right thing or not.
In summary, if you're in the target audience of this book, I think you'll get a lot out of it.
A typographical note: Since I'm designing my own book, I've been paying close attention to book typesetting. Oddly, this book is set in a sans serif font, Quadraat Sans. It grabs my attention every time I open the book (although I had to look at the colophon for the name of the font).