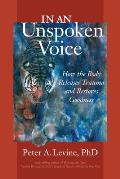 Subtitle: How the Body Releases Trauma and Restores Goodness
This book is billed as a "culmination of his life's work" on the back cover. It recapitulates material from Peter Levine's earlier book "Waking the Tiger" about trauma and the nervous system, and uses many of the same case studies covered in the Somatic Experiencing curriculum. Somatic Experiencing is Levine's protocol for healing trauma, taught through the Foundation for Human Enrichment.
I liked his emphasis on the need for therapists to be present, flexible, and cooperative, rather than distant, rigid, and controlling. I liked his quote from an (unidentified) soldier returned from Iraq: "I have a Post-Traumatic Stress Injury, not Disorder."
I liked his distinction between awareness and introspection: awareness is experiencing the inner glow of an ember, while introspection is examining it with an external flashlight. Awareness allows; introspection dissects. He also distinguishes between feelings (bodily sensations), and emotions (fear, anger, etc.) which arise when impulses are interrupted.
There are some annoying aspects to the book, starting with overuse of italics for emphasis. When discussing the history of scientific discoveries about trauma, emotions, and the nervous system, he repeatedly uses the words "prescience" or "prescient" regarding earlier researchers, even though they clearly did actual science. When talking about the calming effect of being near a peaceful person, he names three specific famous men and the generic "loving mother peacefully nursing her infant."
This book would make a good textbook for Somatic Experiencing classes (aside from the annoying bits). It is too dense for a layperson to enjoy, and yet doesn't cover the healing process in enough detail to be a technical reference on its own.