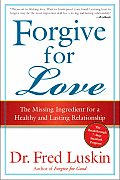 Subtitle: The Missing Ingredient for a Healthy and Lasting Relationship
Recommended to me by: my sister
There are some good ideas in this book, delivered in a patronizing, lecturing tone with a lot of repetition. Yes, people choose each other for a reason, and it's useful to remember that when times get hard. No, staying with someone when pregnant and later having more children with them is not always an uncomplicated free choice in our misogynist society.
One of the recommended techniques is deep breathing to calm the nervous system. I liked the explicit tie from nervous system activation (stress) to continued struggles, and from nervous system calming to forgiveness. The more we can calm our nervous systems, the better we feel, regardless of how others behave.
I also liked the repeated statement that forgiveness and acceptance are two different things. One can forgive someone for behaving badly, and still get out of range of their bad behavior.
Being forgiving means understanding that you can't force your lover to change just because you are uncomfortable, inconvenienced, or disturbed. It is up to you to manage your emotional reactions, not the responsibility of your partner. Once you are able to forgive, you can deal with the [original] problem with dignity and openness, not blame."
Other good advice: Notice what does work, since our attention is often drawn to what doesn't work. Be grateful for the blessing of being loved. Change "You must …" to "I wish…" and drop unenforceable rules. Grieve the losses when you don't get what you want. Both recognize that you are flawed, and give yourself a break. Forgive yourself.
Sadly, the example couples are all heterosexual and all painfully adherent to their stereotypical gender roles, except in two examples where the roles are still stereotypical but it looks like the names have been swapped.
Race, ethnicity, and income are not mentioned, but all the names and stories read as white, European-American, and middle class.
There was one great example where, early in Dr. Luskin's couple's therapy career, a man came in with a long list of complaints about his wife. The therapist sat stunned, thinking that the wife deserved combat pay for putting up with this, and finally responded, "If she met your standards, why would this superwoman hang out with you?" His main point was that the wife forgave the husband for being critical. To me, that highlights the difficult line between forgiving people for having human failings, and tolerating abuse.
Recommended as a first book about forgiveness for heterosexual gender-role compliant white people in monogamous couples, or for anyone else who can be forgiving of the book's weak points.