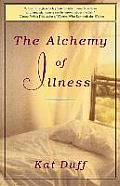 Subtitle: A woman explores the transforming – and, paradoxically, healing – experience of being ill
Recommended to me by: a client
Alchemists strive to turn lead into gold by heating it alone in a sealed container, a crucible. In the crucible of Chronic Fatigue Syndrome, Kat Duff turned inward and found healing in the stillness and isolation forced by her illness.
Weaving together symptoms, dreams, mythology, Jungian psychology, and alchemy along with anthropological research into illness and healing, Duff reveals new perspectives on illness. Instead of being an assault or a punishment, illness can be a natural consequence of our history as individuals and communities. She sees her illness as an agent of healing both for sexual abuse she suffered as an infant, and for the land theft her forebears committed against the Sioux tribe in Minnesota.
Duff is careful to avoid the painful idea that "sick people are personally responsible for creating their illnesses through some kind of wrong-thinking or wrong-doing." Sickness isn't bad. It just is.
She relates a story about Nan Shin, a Zen nun diagnosed with cancer and struggling with guilt and remorse.
Then an old friend, who was also a Zen student, visited. He threw his arm around her shoulders and wisecracked, "Good Karma, huh? Brings you close to the Way." Shin wrote later, "The jolt I felt then showed me very clearly that I had been thinking, Bad Karma. Within a fraction of a second the molecules turned themselves round and reorganized. I am flatly grateful to him forever."
Unfortunately, Duff conflates illness with disability, and occasionally uses phrases like "confined to a wheelchair." People are not confined by wheelchairs any more than people are confined by bicycles, cars, or any other device that assists mobility.
I recommend this book for its kaleidoscope of new perspectives about illness.