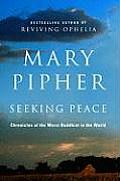 Subtitle: Chronicles of the Worst Buddhist in the World
Recommended to me by: Bay Area Spirituality Bookgroup
Mary Pipher didn't expect to become famous for writing "Reviving Ophelia" and she fell into despair after years of touring and speaking engagements. The book covers her despair, her parents, her childhood, and then her healing. She says she is the worst Buddhist in the world because she has trouble sitting still and paying attention.
In the introduction she apologizes at length for having a crisis as a happily married and successful career woman when other people have real problems and real traumas. Then she describes her childhood family's real problems and real traumas. She did have a fairly ordinary college career and young adulthood, at which point I put the book aside in frustration at its circular approach to the initially-described crisis.
I did pick it up again and read quickly through her healing approach, which included slowing way down, spending a lot of time in nature, trying yoga and massage for the first time, and meditating. She notices her vicious self-critic who cares about whether she is helping others but not about whether she is happy. With time and attention the critic mellows and she comes to a place of more acceptance for herself as she is.
I wish she had noted in her introduction that comparing our crises and traumas to other people's is a tool of self-criticism rather than compassion. Swallowing our pain because someone else has been hurt more helps no one.