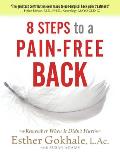 Subtitle: Remember When It Didn't Hurt
Recommended to me by: Rosalind Bell
This book is a beautifully photographed and illustrated step-by-step guide to moving well as a human. It is also a carefully crafted sales brochure for the author's clinic and method, with testimonials sprinkled liberally through the text.
Esther Gokhale ("Go-clay") grew up in India, studied biochemistry and acupuncture in the US, and, inspired by her own back pain, conducted research on body mechanics in Burkina Faso, India, Portugal, and elsewhere.
She suggests that we integrate stretchsitting, stretchlying, tallstanding, and glidewalking into our lives to regain our birthright of healthy pain-free movement. The foundation of these movements is to allow the pelvis to tip forward so the top is lower in front and the sacrum protrudes slightly in back. The rest of the back remains relatively straight, with the shoulders settled down and back.
In contrast, many of us learned to tuck the pelvis so that if we had a tail, we'd be sitting on it.
The photographs of babies and adults from around the world are gorgeous and convincing. The book is carefully respectful of traditional cultures and full-figured people. I would have liked to see photos of people of color from the USA, and white people from traditional cultures, rather than the strict divide with only white people from the USA and people of color from traditional cultures.
While there is a lot of discussion about cultural influences on posture, there is no reference to the long-term effects of physical and emotional trauma. For some people there is more to healing than learning to move with a stretched back.
I highly recommend this book for the photos, for new ways of observing movement and posture, and for useful exercises to improve the use of your body.
More information about the Gokhale Method.