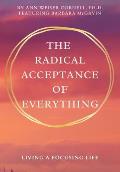 Subtitle: Living a Focusing Life
Recommended to me by: Ann Weiser Cornell's website
I bought this book because of my excitement about The Power of Focusing. I was not disappointed.
These essays by Ann Weiser Cornell and her working partner Barbara McGavin describe both the theory and practice of Inner Relationship Focusing, as well as some of the history behind its development. They show specific, concrete ways to radically accept everything, including Inner Critics, exiled parts, internal conflicts, and non-response.
I started reading the book on the train, but stopped because I was embarrassed to cry next to my seatmate. The tears came from recognition and longing. This is how I want to be heard, and how I want to hear others. This is how I want exiled parts of me to be welcomed home.
Highly recommended.