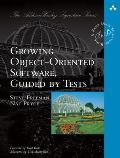 Recommended to me by: Sam Livingston-Gray
This book is written in a more formal, technical style than Test-Driven Design by Example. I'm glad I read the latter book first.
The main new idea I learned from this book is to set up a testable skeleton of a new application at the beginning. This involves researching infrastructure decisions up front, as well as dealing with the thorny issue of installation. The authors' point is that this work has to be done at some point, and it makes project schedules a lot more reliable in the long run when it is done first.
The authors advocate for making software objects small and shifting emphasis to the communication between them.