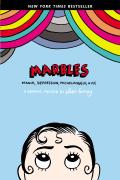 The story and drawings quickly engaged me, despite the author's sometimes bizarre, sometimes heavy journey through mania, depression, and eventually, balance. She has the fantastic support of her mom, friends, and psychiatrist, but still struggles for years before finding a set of meds that works for her.
In depression, she can barely get out of bed to sit under a blanket on the couch. At the same time, she still swims several times a week, goes to yoga, and draws her weekly comic strip. In mania, she struggles to control her racing thoughts and impulses. Her commitment to self-care is woven through the book, along with disarming candor about her daily experience.
Highly recommended to learn about one woman's experience with bipolar disorder and creativity.