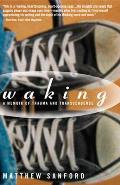 Subtitle: A memoir of trauma and transcendence
Matt was paralyzed from the chest down at the age of 13 in a winter car crash that also killed his father and older sister. His book chronicles the numbness and dissociation that help him survive his first months and years of recovery, and his later reconnection with his body. The book includes the beautifully functional family relationships that helped sustain him.
The doctors tell him he cannot connect with his legs past his spinal injury. Even though the flesh is connected, with blood circulating in and out of the paralyzed areas, they tell him the energy he senses is just in his imagination, denial, wishful thinking.
He remembers his father doing yoga alone in the basement long before it became popularly accepted in the US. He finds a yoga teacher, Jo Zukovich, with the intuition and imagination to work with him and begins reconnecting with his body. Along the way he experiences the flashbacks and body memories of healing trauma.
He and Jo discover that "alignment and precision increase mind-body integration regardless of paralysis." Matt writes,
"If I listen inwardly to my whole experience (both my mind's and my body's), my mind can feel into my legs. […] It is simply a matter of learning to listen to a different level of presence, to realizing that the silence within my paralysis is not loss. In fact, it is both awake and alive. […] The silence that helped me leave my body and protected me from pain in intensive care is the same silence that helps me energetically connect mind and body."
Highly recommended for a clear, honest look at trauma, recovery, and living well with disabilities. Prepare to have your unconscious stereotypes about "poor, wheelchair-bound" paraplegics decisively shattered.