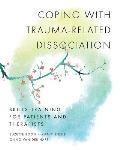 Subtitle: Skills training for patients and therapists
Recommended to me by: A client
This is a useful book packed full of detailed, compassionate information on dissociation. Since it is a group training manual, it is divided into short chapters meant for individual class sessions.
The authors often note that each person's experience of dissociation and healing will be different, and techniques work for different people at different times. At the same time, there is a whiff of condescension in the training, with over-simplified explanations and implications that if you just work hard enough everything will get better. For example, improve your social skills and you won't be isolated any more.
I've noticed that a feeling of loneliness can be a flashback to earlier isolation. This is the first book where I've seen that mentioned. The main suggested tools for healing are empathic observation, finding common ground among dissociative parts, taking small steps, and creating internal safety. There are several creative visualization exercises, for example visiting a store that is perfectly comfortable for you and where you can pick up anything you need to feel safer, for free.
I recommend this book for people who experience and/or work with dissociation. At more than 400 pages, it's a good book to read gradually or dip into for ideas.