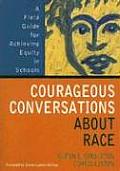 Subtitle: A Field Guide for Achieving Equity in Schools
Recommended to me by: Donna Maxey, at Race Talks.
A carefully crafted, practical how-to manual for school systems to dismantle racism and equitably teach all children well. Co-written by Glenn Singleton, a Black man from Baltimore, and Curtis Linton, a White man from Salt Lake City, this book includes their personal experiences with race and racism as well as materials to implement their program and some historical information on U.S. racism.
Slowly, carefully, clearly, the topic of race and how to talk about it safely is introduced. Each point is supported with studies and stories. Terms are defined and repeated to foster understanding.
Four Agreements:
stay engaged.
speak your truth.
experience discomfort.
expect and accept non-closure.
Six Conditions of Courageous Conversation
Establish a racial context that is personal, local and immediate – speak from your own experience.
Isolate race while acknowledging other factors – don't avoid the topic of race.
Listen to others' experiences of race. Expect disagreement in viewpoints.
Notice White Talk vs. Color Commentary. Notice perspective of all participants: intellectual, emotional, moral, or social.
Establish agreement on a contemporary working definition of race.
Examine the presence and role of Whiteness and its impact on the conversation and problem being addressed.
The book advocates passion, practice, and persistence to address the racial achievement gap. It calls on teachers and administrators to take personal responsibility for learning the skills required to reach each student and help them all succeed.
I would love to see this book used in all school systems. The awareness and communication it fosters are healing for the adults involved in the process as well as for the children in their care.