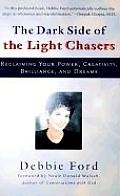 Subtitle: Reclaiming Your Power, Creativity, Brilliance, and Dreams
I first read this book at least 10 years ago and found it life-changing in both positive and negative ways. Yes, it's useful to look within myself for qualities I struggle with in others. Yes, it's useful to acknowledge that we include all qualities, both wanted and unwanted.
No, it's not useful to believe that I can control others through that process. The author says, "We must choose interpretations that move our lives forward rather than leave us feeling alone and helpless." Years ago, I read that as a command, as well as self-blame if I felt alone and helpless. Now I see the author's avoidance of the qualities of aloneness and helplessness, as well as the effects of her privilege and wealth, insulating her from events she truly does not control.
This book contains a lot of practical information and exercises about projection. It's worth reading with caution to see which ideas work for you. The point of acknowledging projection is to reduce internal pain and suffering, not add more because you don't get the magical external results the author describes.