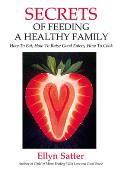 Subtitle: How To Eat, How To Raise Good Eaters, How To Cook
Recommended to me by: Michelle, The Fat Nutritionist
This book is full of wise, kind advice for adults trying to improve their eating competence. It contains advice for feeding children, like Child of Mine, as well as advice for solo adults, "families of one." There are recipes, shopping lists, and nutritional facts, some of which contradict what "everyone knows." For example, eggs, red meat, and full-fat yogurt are all valid, nutritious foods.
The core of the book defines eating competence:
Trust yourself and your body around eating
Honor your appetite
Eat as much as you want
Feed yourself faithfully
Ellyn Satter emphasizes a gradual, mindful approach to changing our eating. The book contains reassuring stories about small steps toward eating competence, each one meant to establish self-trust rather than authoritarian rules.
I skimmed in and out of this book, lacking the time and focus to take it all in at once. I plan to digest it a little at a time, in small steps.