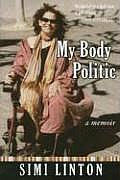 Subtitle: a memoir
Simi Linton is a Jewish woman, married, a professor and researcher with a Ph.D., who uses a wheelchair. Her memoir starts with the car crash that caused her disability and her slow physical recovery, and continues with her reemergence and engagement with a largely inaccessible world. She moves from gratitude for strangers' help pulling her wheelchair up curbs and stairs, to the realization that the built environment should be wheelchair-accessible.
She acknowledges the privilege and family's financial resources that allow her to pursue a college degree, and calls out the tragedy of most disabled people's lack of access to education. She teaches for several years at a school that mainstreams disabled kids, and publishes articles about disability and society.
She paints loving, detailed word pictures of her disabled friends leading vibrant, connected lives as she describes her own relationships and career.
Highly recommended.