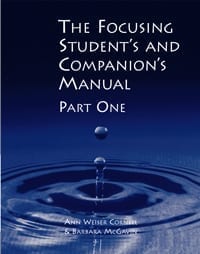 Recommended to me by: Jael Emberley
I took Focusing classes I and II from Jael Emberley, and bought both parts of the manual, even though the second part is for classes III and IV. Both parts are written in clear, friendly language, and delightfully illustrated by Mary Ferris. Her expressive line drawings of anthropomorphized hares capture the subtleties and humor of Focusing.
Focusing is paying attention inside to an unfolding felt sense about an issue or situation. Somatic Experiencing includes a lot of Focusing. I read Part Two now to learn more about how to be present with merging and exiling of internal "something"s. Suggestions include
Use presence language. "I sense something in me that feels overwhelmed."
Turn toward the Something that has Feelings about the Feeling, and might be saying things like, "I don't want to be scared!" "It's bad to be angry."
Notice behaviors that come out of Feelings about Feelings, like rushing the process, forcing a choice, analyzing, diagnosing, deciding, fixing, doubting, arguing, and especially criticizing.
For critics, sense for what they're not wanting.
Acknowledge parts that are trying to force other parts to Do It Right.
Exiling – something is judged as so bad and dangerous it is removed from awareness. As it comes back, the symbols for it might move from inanimate to animate.
Exiles need a lot of time and safety to gain trust and come back into inner relationship.
Recommended for learning about Focusing and being amused and touched by the line drawings.
Part One and Part Two are available from FocusingResources.com