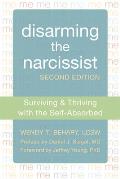 Subtitle: Surviving and Thriving with the Self-Absorbed
Recommended to me by: Focusing-discussion list
The person recommending this book spoke of narcissistic wounds rather than narcissistic people. I think it's useful to have compassion, and at the same time it is easy to lose sight of the people hurt by narcissistic behavior.
The author is a therapist who works a lot with narcissists and couples containing a narcissist. She classifies narcissists as spoiled, deprived, dependent, or combinations of these. She describes abusive childhoods which can sometimes lead to narcissistic behavior. She distinguishes between "moderate" narcissists who might reform after a great deal of work, and "perilous" narcissists who are abusive and unreachable.
The reader, assumed to be in a relationship with a narcissist, is encouraged to hold boundaries more strongly, and be more present and aware. On the one hand the author wants to be helpful and give concrete advice, and on the other hand the most helpful advice I've found around narcissists is, "You're already good enough. You're already trying hard enough. There is nothing wrong with you."
If the following sounds like new and useful advice, you might want to read this book.
"Putting yourself in the narcissist's shoes means trying to sense and genuinely feel his inner world. Specific techniques can help you do this. For example, when the narcissist begins to address you sharply, you could superimpose the face of a lonely and unloved little boy over that of the grown man before you."