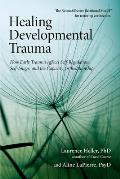 Subtitle: How Early Trauma Affects Self-Regulation, Self-Image, and the Capacity for Relationship
The first section of this book is focused on analysis and categorization. It describes five adaptive survival styles in response to developmental ruptures in connection, attunement, trust, autonomy, and love and sexuality. I found this part dry and off-putting, and skimmed through it.
The second section narrows the focus to the connection adaptive style in response to very early trauma, abuse, and neglect. It describes physiological responses to trauma and shares several transcripts of therapy sessions. This section was much more engaging and useful. The therapeutic style is named NeuroAffective Relational Model, abbreviated NARM throughout.
Therapists are recommended to be non-judgmental, present, authentic, gentle, and attuned with the client. Careful tracking of the client's responses allows alternation between expansion and contraction, with emphasis on positive expansion. Anger and aggression are recognized as natural, necessary responses to trauma. Unresolved defensive-orienting responses to trauma linger in tension around the eyes and narrowed field of vision, so working with eyes and gaze is useful. Therapeutic touch is a resource to repair early neglect.
Recommended as an introduction to the differences between shock trauma and developmental trauma, with some body-centered and client-centered techniques to help.