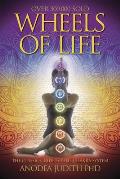 Subtitle: A User's Guide to the Chakra System
Recommended to me by: Katherine Macomber Millman
This is a thorough, inclusive, grounded introduction to the chakra system. It includes Hindu history, symbolism, and interactions with yoga. It discusses both the "liberating" current, moving toward the upper chakras and universal energy, and the "manifesting" current, moving toward the lower chakras and individual energy. All the chakras are important, from the ones that ground us in our body to the ones that connect us with All That Is.
Each chakra has a long list of associations, from colors and sounds to Hindu divinities to ailments and body parts. The author includes specific yoga poses and movements to connect with the chakras. Each chapter also includes essays on related scientific ideas. While the connections between the science and the chakras might be debated, the science itself is carefully and accurately presented.
I noticed that I disagree with some of the associations the author proposes, like water and emotions for the second chakra, and air for the fourth chakra. They make sense if each chakra has an element, but that set of associations didn't click for me. I was surprised to discover strong opinions on what the chakras do and don't represent for me.
I looked at another book on the chakras which uses "he" and "man" everywhere. It was a relief to return to this book, which even-handedly mixes pronouns, and includes explicit anti-racism as well.
I also looked through The Sevenfold Journey: Reclaiming Mind, Body, and Spirit Through the Chakras by Anodea Judith and Selene Vega. This contains an abridged version of the material on each chakra from "Wheels of Life", and adds stories, journal exercises, and rituals from the workshops they have held for people to work through each chakra in turn. The personal stories were a great addition, and this might be a better introduction for someone who wants to do personal work with the chakras.
Both books are accessible, interesting, and a great introduction to the New Age version of the chakra system.
This article contains a good summary of basic chakra information and associations: Asanas for the Chakra System