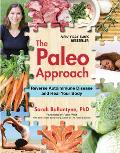 Subtitle: Reverse Autoimmune Disease and Heal Your Body
Recommended to me by: a friend
This is a textbook sized book with science textbook's density of information. It contains detailed information about the immune system, digestive system, and scientific studies about the effects of food on both systems. I will admit I skimmed a lot of the science, not having time to study each section in depth before the book was due back at the library.
At the same time, this book comes across as a marketing tool for this particular approach to eating, complete with testimonials and a disturbingly thin white woman doing an extreme yoga pose on a beach on the cover. On the positive side, a Black woman's (sleeping) face is also included on the cover.
While the book repeatedly emphasizes that each body is different and each autoimmune response is different, it also repeats that strictly following the proposed protocol is necessary for healing. I'm wondering if restricting my diet even further would be helpful, while my gut (hm) says, "No more restrictions!" The book emphasizes nutrient-dense foods as well as restrictions, and I think I already do pretty well at that, although I don't eat a lot of organ meats as it recommends.
It includes suggestions for improving sleep, reducing stress, and increasing moderate exercise. I'm relieved to read support for those aspects of my self-care.
My friend is following the approach strictly, and is seeing good results. I'm considering whether to make further changes to my diet, and how that might work logistically.
Recommended if you have ongoing digestive and/or immune issues and want to learn more about what scientists currently know about these systems. At the same time, note that scientists are constantly learning more and changing their conclusions, and what works marvelously for one person won't necessarily work for someone else.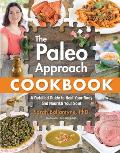 I also took a look at Sarah Ballantyne's "The Paleo Approach Cookbook: A Detailed Guide to Heal Your Body and Nourish Your Soul". Lots of varied, complex recipes. It seems more suited for cooking for a family than a single person.