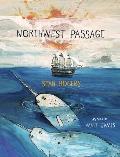 "Northwest Passage" on youtube Go listen!
Stan Rogers was a Canadian folk music luminary, writing and performing songs with wonderful lyrics and harmonies. Sadly, he died back in 1983 in a airplane fire. He got out, but died of smoke inhalation when he went back in to help others. I remember the collective grief at a folk festival when the news first went around.
When I saw a post about a large-format children's book that illustrates Stan Rogers' song, I immediately requested it at the library. The colorful, detailed, dramatic paintings illustrate the song line by line.
The book also includes a detailed history of John Franklin's doomed expedition searching for the Northwest Passage through Arctic waters to the Pacific. The explorers died of an unusually cold winter, and of hubris in thinking they did not need the help of local First Nations people. Instead of foraging locally, they carried canned food brought from England which turned out to have a lot of lead in the cans.
The last page has sheet music for the song, and a fourth verse that was never recorded.
And it will be I'll come again to loved ones left at home,
Place the journals on the mantel, bake the frost out of my bones,
Leaving memories far behind me, only memories after all,
And hardships then, the hardest to recall
Rest in peace, Stan Rogers. You are not forgotten!
Stan Rogers website with information about his albums and another book about the same song.