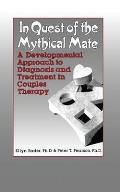 Subtitle: A Developmental Approach to Diagnosis and Treatment in Couples Therapy
Recommended to me by: Robyn Posin
This is a carefully crafted book about effective, compassionate couples therapy, including a clear theoretical framework and practical suggestions for diagnosis and treatment. I'm guessing the title was created by a marketing department, because it doesn't fit the book at all (to my relief).
Their framework is that relationships go through stages just as children do. The stages are named symbiotic (we are so alike), differentiating (how do we work out differences), practicing (turning outward independently), and rapprochement (turning back toward the relationship). The members of a couple can be at different stages, for example symbiotic-differentiating, or symbiotic-practicing. All the stages are important and valuable. The symbiotic stage is expected and helps create a strong foundation for the relationship.
Diagnosis is made through talking with the couple, questionnaires about problems and goals, and through a "paper exercise" – giving a couple a blank piece of paper and telling them, "This represents something very important to each of you. You have 5 minutes to work out who will get to hold it."
There are a lot of case histories, including one lesbian couple and one couple with a woman of Japanese ancestry. I would have liked to see more diversity, although I suppose this isn't bad for a book from the 80's.
The therapists are perceptive, compassionate, and direct. They name inappropriate behavior, and teach their clients healthier alternatives.
Recommended for people interested in couple dynamics and effective therapy.