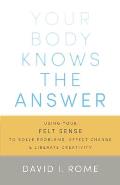 Subtitle: Using Your Felt Sense to Solve Problems, Effect Change & Liberate Creativity
This is a gentle, step by step introduction to Focusing, with exercises for each section and personal annotated examples of Focusing sessions. David Rome calls his approach Mindful Focusing. He explains how to be with ourselves in a Focusing way without a Companion to hold space for us.
It starts with GAP, Grounded Aware Presence. Settle into the support of your chair, or the ground if you're standing. Notice the sights and sounds of your environment. Sense into your heart and breathing, right in this moment. I like the quick simplicity of that.
The second exercise is friendly attending, being with whatever comes the way we would be with a shy frightened creature, available, observant, warm, allowing it to approach when it's ready.
The book continues with gateways to the felt sense (mind, body, emotions), and working with felt senses in the context of specific situations. The second half talks about finding actions steps, deep listening with others, and working with conflicts.
There are a lot of words about how to find a felt sense and how to interact with it. I'm still not sure when I'm in contact with one and when I'm in contact with something different (but what would that be). It seems to be part of Focusing for me to be uncertain if I'm doing it right.
Recommended for people interested in exploring Focusing, especially those already familiar with mindfulness practice.
Available at Powell's Books (half-price on remainder as of 12-Mar-2016).