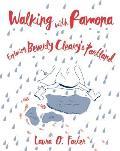 Subtitle: Exploring Beverly Cleary's Portland
A 3 mile walking tour of Beverly Cleary's neighborhood, starting at the statues of Ramona Quimby and Henry Huggins and Ribsy at Grant Park. The directions are easy to follow and the information is carefully researched and entertainingly presented. The neighborhood itself is full of gorgeous old houses and a quirky commercial center.
The only downside is photo captions set on the photos themselves, rather than on the white part of the page where they would be easier to read.
Recommended if you want to learn more about the Hollywood district in Portland now or back in the 30's.