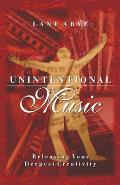 Subtitle: Releasing Your Deepest Creativity
Recommended to me by: a friend
This is a wonderful introduction to Process Work via making music.
There is the primary signal – the music we want to make – and the secondary signals – all the mistakes, hesitations, and imperfections that pop up despite our best efforts. Lane Arye recommends emphasizing a secondary signal and seeing what happens. Probably, another secondary signal will emerge.
Following the chain of secondary signals can lead directly to core issues and allow them to change. It can lead organically to more effective technique. It can connect us to what our spirit wants to express.
Highly recommended if you make music or art or want to learn about Process Work in a playful way.
The introduction and first chapter are available on Lane Arye's website.