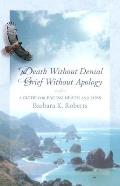 Subtitle: A Guide for Facing Death and Loss
This is a loving clear-eyed unflinchingly personal look at terminal illness, death, and grief by Oregon's former governor Barbara Roberts. Her husband Frank Roberts died of cancer during her governorship. From the introduction:
I hope for a culture of loving openness in every medical office, hospital room, health care clinic, and emergency room where news of life's limitations and death's impending arrival are discussed openly and compassionately. People who are dying and their families and loved ones must be prepared to create such a culture for themselves.
Frank was a state senator during his last year, and there are some mentions of both of their political work in their choice to keep his terminal illness private for some time. I can only imagine the strength it took to continue to govern through illness and grief.
She tells the story of his diagnosis, their decision process together, their choice of hospice rather than further treatment, his quiet death, and her grief afterward. Emotions are included, but the story is calmly told. She shares the practical steps of planning for death. She talks openly about her own and others' private rituals of grief, such as bringing flowers to a recently dead wife on an anniversary, or talking to the urn containing Frank's ashes.
Highly recommended!
Wikipedia page about Oregon Democratic governor Barbara Roberts. Her term was from 1991-1995. She was the first woman Oregon governor. The second was just elected in 2016, our current governor Kate Brown.