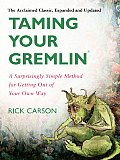 Subtitle: A Surprisingly Simple Method for Getting Out of Your Own Way
The first time I got laid off, back in 1998, we were given day passes to a career center. I dutifully leafed through binders of possible jobs, until a slim book caught my eye. I sat and read all of the first edition of Taming Your Gremlin, enticed by the playful illustrations and clear writing. "Simply noticing" and "playing with options" were exactly the tools I needed.
I ran across it again later and got my own copy, eventually joined by the expanded edition published in 2003. I've recommended it a lot since then.
I dug it out recently because I was writing about being nice, and I remembered the "nice person act" in this book. It turns out to be called the "pleasant person act," but it's still relevant. We mask our essential selves by acting the way we think we should.
The gremlin is the Inner Critic, the one who tells us that we are unlovable, unworthy, and need to work on ourselves all the time. We can't get rid of it, but we can tame it by simply noticing, playing with options, and being in process.
Highly recommended!