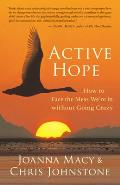 Subtitle: How to Face the Mess We're in without Going Crazy
This book, published in 2012, is a practical manual on how to live in challenging times. It has only become more necessary since it first came out.
It starts with three stories of our times, Business As Usual, the Great Unraveling, and the Great Turning. The book is written to those with enough privilege to choose Business As Usual, with encouragement to avoid the despair of staying in the Great Unraveling of runaway climate change, and choose the Great Turning toward sustainable lifestyles instead. Oddly, the book does not address privilege directly at all. It does look like they're moving toward more awareness of oppression.
Joanna Macy leads workshops in the Work That Reconnects, a four step process. It is rooted in gratitude, grows into honoring our pain, blooms into seeing with new eyes, and creates seeds of going forth, taking action. These steps can happen in the span of a lifetime, and in the span of a few minutes. We go around the steps repeatedly, in a spiral. More about the spiral, with a great image.
Gratitude reconnects us with the web of life that supports us, and reminds us that we do not live in isolation. We are part of that interconnected web, part of the living Earth.
Honoring our pain and the pain of the earth allows that energy to move through us, and to move us toward action. It also gives permission to those around us to acknowledge their own pain, and connects us with each other in witnessing and giving/receiving support.
When we shift into gratitude and acknowledge our pain, we can shift to a larger perspective and connect both with our inner witness self, and with the voice of our community and the earth. We can start to see our power-within and power-with, instead of staying in hopelessness or power-over.
The seeds of action come from that wider perspective, and from opening to visions of how we want to live and how we can get there. We ask what wants to move through us. We move in the direction of our strengths, and treat our enthusiasm as a renewable resource that needs maintenance. We reach out for support.
We live with uncertainty. We don't know whether things will turn toward being better or worse, so we lean our small weight in the direction of better. We gradually (or suddenly) move toward living more sustainably and happily.
Recommended for finding a way forward in these difficult times. This book is based in environmental activism, but is more generally applicable. It does point out that anyone living in the story of the Great Turning is an activist, whether we go to protests or not. No matter what the ultimate outcome is, I'd rather live day to day incrementally supporting the world I want to see, rather than contributing to the disaster by ignoring it or despairing.