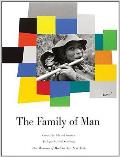 Recommended to me by: Asakiyume
A photo book from an exhibition in 1955 showing 503 photographs of people from around the world living their lives.
The use of "Man" for people bothered me at the outset, and I grumpily examined the book through the lens of inclusion and exclusion. There are women and people of color pictured, and the women get to be strong and active too. The places where men predominate, in suits in a courtroom for example, they predominated in 1955. There were many photos from the USA, where the exhibit was originally held.
This is a great book for children, to show them that people are essentially the same everywhere, and also that people and cultures have infinite variation. Also a great book to find prompts for stories. I wanted to know more about the people in each photo, to get to know a few of them in depth rather than move through the teeming crowd of them.
Asakiyume's post has a great sampling of photos.