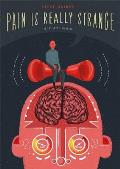 Recommended to me by: reading Trauma Is Really Strange
This is in the same format as "Trauma Is Really Strange," a graphic "novel" (although it's non-fiction) or comic, or graphic medicine book. Each page is divided into panels with drawings and word bubbles, sometimes with additional explanations in tiny red print at the bottom of the page.
Most of the book talks about the complex neurology of pain as a lead up to saying that long term chronic pain is almost entirely unrelated to gnarly looking bone bumps or torn muscles on MRIs. Pain is the brain's way of signaling danger, and our bodies each interpret danger in different ways. Tissue damage usually heals in 3-6 months, so most chronic pain that lasts longer than that is due to a sensitized nervous system.
Cancer pain is an exception, since tumors continue to physically push on body structures. I suspect there are other exceptions for chronic infections, etc.
Telling ourselves stories about pain that allow room for change is more functional than telling ourselves stories that have no hope, like "I'm just getting older," or "I have arthritis." Choose metaphors with hope as well. Pain as protective rather than pain as punishment.
Getting in tune with your body, feeling what is happening in this moment, and gradually adding gentle movement can all help the brain feel safer and thus reduce pain.
Paying attention to what feels good not only feels good in the moment, it can reduce overall pain over time.
Much of the information in the book is in tiny red print at the bottom of the pages under the cartoon panels. The cartoon format helps defuse a difficult topic, but also simplifies its complexities. I like the overall message, and at the same time the topic doesn't quite fit into this format.
Recommended if you need a gentle introduction to the ways chronic pain can improve.