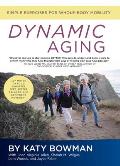 With: Joan Viginia Allen, Shelah M. Wilgus, Lora Woods, and Joyce Faber
Subtitle: Simple Exercises for Whole-Body Mobility
Recommended to me by: Amy Bennett
This is a kind, gentle book aimed at "goldeners" – also known as senior citizens – who don't move much (anymore, or yet) but it can apply to any of us, since we're all aging, and few of us move fluidly in all our joints. Katy Bowman is the teacher and main author, and four of her longtime class members, all in their seventies, contribute their experiences.
The first lesson is that fear and negative expectations can contribute to stiffness and immobility, which is why the people in Katy Bowman's class choose to step away from the usual language for their age group and invent the new term "goldeners." If we can't imagine ourselves in motion, or we expect that motion leads to pain and injury, then we don't move.
The book has easy, gentle exercises for each part of the body, starting at the feet, moving through knee and hip alignment and hip mobility, rib alignment and shoulder mobility. Balance, rising from a chair, confident walking, and movements needed for driving are emphasized. Line drawings help clarify each movement.
A note: Just because these exercises are simple and gentle, doesn't mean you can't overdo it. Start a little at a time!
The book is set in larger than usual type, double spaced, for ease of reading by older eyes. First the exercises are presented as part of a narrative about how they can fit into your life. Then a whole exercise routine is shown. Then each exercise is illustrated and described in a reference section. It's a quick, enjoyable read, and has a lot of material for further exploration.
Recommended for anyone who wants to move more easily for more years, and especially for older people who need a reassuring re-introduction to movement.