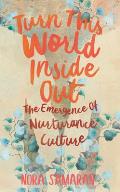 Subtitle: The Emergence of Nurturance Culture
Recommended to me by: Nora Samaran's online essay The Opposite of Rape Culture is Nurturance Culture
This book contains three of Nora Samaran's powerful essays (also available on her blog) and dialogues with other writers that expand on the themes of nurturance, attachment, shame, gaslighting, gendered violence, and repairing harm.
It is a short book that can be read quickly, and at the same time there are a lot of chewy ideas to take in over time. There are also references to more reading on these topics by people who are one or more of trans, Indigenous, and Black who have developed skills of sustainable, relational living. The book holds the question: how do we best move forward from and heal from white supremacy, colonialism, capitalism, and patriarchy.
What would it be like to live in a culture where we all could be socially embraced in this way, where we could speak up about harm, could say not to it, without fear, because we know without question that no one in our community will dehumanize another?
I admire Nora Samaran's insights, and I long for the kinds of communities and relationships she describes. This book brings in more voices to deepen and expand the conversation. Highly recommended.