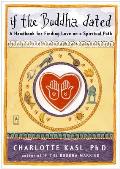 Subtitle: A Handbook for Finding Love on a Spiritual Path
I read and liked this a long time ago. I've been recommending it to folks lately, so I reread it to refresh my memory.
The part I remembered and liked was the encouragement to be yourself in dating. Show up as you are, and see if the other person likes the real you.
And what if no one is liking the real you, for a long time? Charlotte Kasl suggests looking at what internal barriers you might have in the way of relationships, and also strongly affirms that it happens when it happens. You might be doing everything right and still remain single, especially if you're in a location or situation where you don't meet a lot of eligible people.
The spirituality in the book is down to earth. Show up for your life as it is. Sit with yourself as you are. Bring in more compassion, more gentleness, more acceptance.
She talks a lot about accepting a new love as they are, signing up for everything they do in the present, with the awareness that it all might stay the same or change. Acceptance is important, and at the same time I find relief in LaShelle Chardé's position that acceptance includes clear boundaries and communication of needs and feelings.
When you are truly in acceptance there is a sense of ease, clarity, openness, and often warmth. When you are thinking you "should accept your partner" (i.e., accepting your partner too much), there is a sense of effort, heaviness, contraction, and lots of deep breaths.
On the topic of discerning whether a new love is or will become abusive and controlling, Charlotte Kasl suggests keeping a list of your bottom lines on the fridge, and noticing when they get crossed. If the list starts looking like a completed shopping list, pay careful attention. Also notice when you're reluctant to tell good friends about what's happening in the relationship because, "They just wouldn't understand." I would have liked to see a stronger affirmation that you can't always tell in advance, and abusive behavior is the responsibility of the abuser. Of course we'd like to avoid pain whenever we can.
Overall, a wise, hopeful little book, a quick read that covers a lot of complex topics, touches into some depths, and also skims over some complexity.