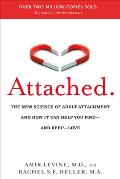 Subtitle: The New Science of Adult Attachment and How It Can Help You Find and Keep Love
This book was published in 2010, and is still fully relevant – except the "new!" around attachment theory. Once you get past the initial "amazing!" hype, this book is practical, encouraging, accepting and compassionate.
While I'm talking about downsides, all the example couples are heterosexual (except possibly one brief negative vignette) and almost all have Anglo names. On the upside, there aren't overt sexist stereotypes. On the downside, gender-related differences in emotional labor are not mentioned at all.
I was uncomfortable with referring to people as "avoidants" and "secures." Sure, it gets awkward to keep saying, "People with an avoidant attachment style," but respect is important, especially when attachment styles are "stable but plastic" – they tend to stay the same, but can change over time.
They emphasize up front that attachment is a primal survival system in the body. We need other people. Our nervous systems like to attune with others to help us feel calm and handle stress. "Needy" is a statement of fact, not an insult or a weakness.
People with a secure style accept their own needs and those of others calmly. People with an anxious style feel ashamed of their needs, but feel them strongly. People with an avoidant style suppress their needs, but still have them.
The disorganized attachment style (traumatized by attachment figures) gets short shrift once again. They call it anxious-avoidant and say that only 3-5% of the population have this style. Their advice for non-secure folks does still apply.
They also say that 50% of people are secure, which seems surprisingly high to me. They do say that people with an avoidant style are over-represented in the dating pool because they successfully avoid ongoing relationships, and people with a secure style are under-represented because they find someone and settle down for the long term.
For people with an anxious attachment style, they recommend filtering potential partners by asking, "How much is this person capable of intimacy? Are they sending mixed messages or are they genuinely interested in being close?" People with a secure attachment style intuitively do this, knowing they deserve love and care.
They also recommend distinguishing between an activated attachment system (alternately panicked and euphoric) and the calm safety of a secure connection.
The main antidote to attachment-related struggles is effective communication. Calmly say what you need and ask about confusing signals in a non-accusatory way, and then pay attention to how the other person responds and follows through. Do they avoid, deflect, defend, or repeat troubling behaviors? Or do they listen, care, and repair issues in a collaborative way?
When you become part of someone's inner circle, do they treat you like an enemy, or like royalty? In the inner circle of a secure relationship
Your well-being comes second to none
You are confided in first
Your opinion matters most
You feel admired and protected
Your need for closeness is rewarded with even more closeness
To move toward a secure attachment style, accept your current needs for closeness or distance, practice effective communication, don't take other people's bad behavior personally (but do get out of range!), and find secure role models. In conflicts, assume the best and also pay attention to how you are treated. They suggest that pets can be great role models for secure relationships.
It is very hard to leave an attached relationship, even when it is destructive and painful. We can only gradually deactivate the attachment system, and tough out the primal panic of being without an attachment figure. Building a support network can help a lot with reality checks about the relationship and soothing for the internal attachment system.
Highly recommended for people who want to understand past relationship catastrophes and get better results in the future, without blame or shame.